Water Testing Drones Take Off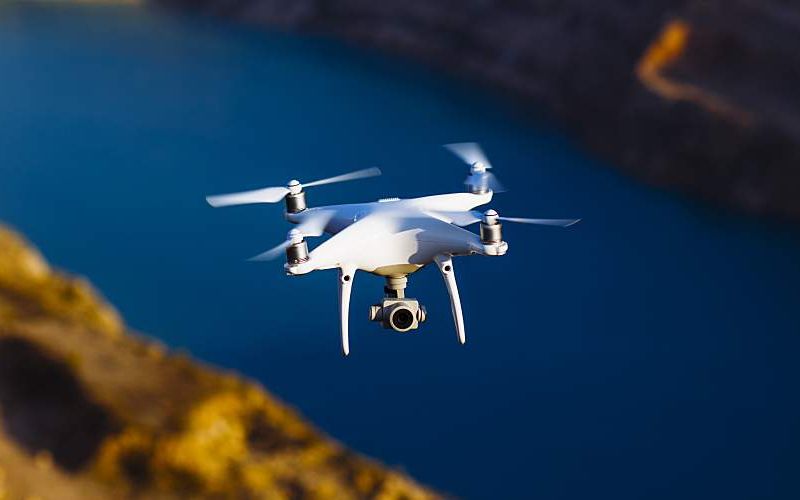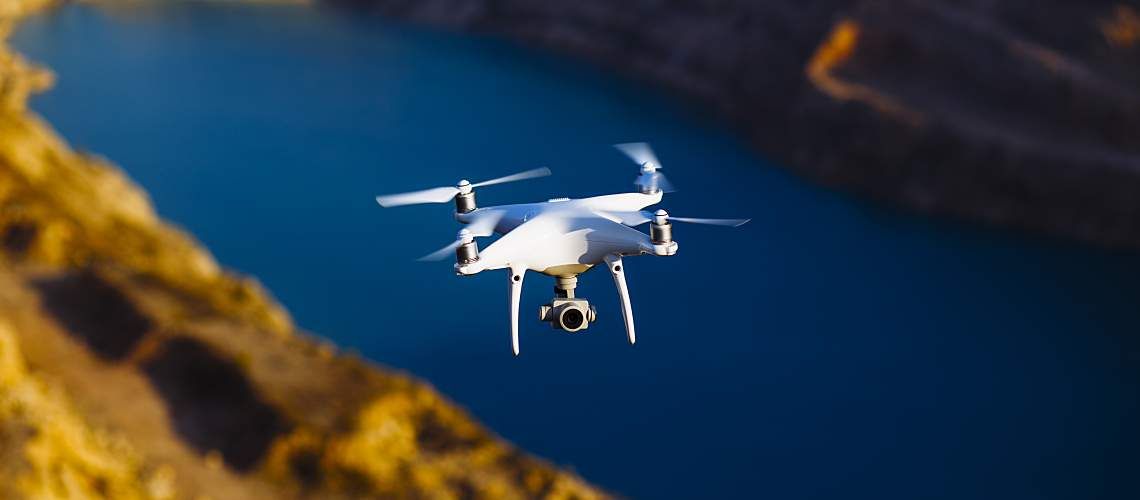 Drone-based water testing has gained traction over recent years. While the technology varies, it generally involves deploying an unmanned aerial vehicle or aircraft system with a sampling device to remotely collect water from a specific location for testing.
Potential advantages to this technology include faster turnaround times, better visibility into water quality issues, improved regulatory compliance, greater protection for environmentally sensitive areas, and reduced health and safety risks for workers. At the same time, using drones for this application is still new—experts have identified several key challenges that need to be addressed before there could be widespread adoption in the global water industry.
Drone Testing Accelerates
Numerous drone-based water sampling technologies are being deployed globally. Some sampling devices are custom-designed, while others are commercially available and trademarked. These devices connect to off-the-shelf drones, also called uncrewed or unmanned aerial vehicles.
One of the earliest flights took place in 2013, when computer scientists used a drone with a custom-built chassis for water sampling at Holmes Lake in Lincoln, Nebraska. They monitored temperature, dissolved oxygen, sulfate, and chloride levels. Since then, other scientists have conducted drone-based water sampling and additional testing devices have emerged—including tubes with onboard pumps, trigger bottles, and self-sealing bags.
Mining companies in Canada are currently at the forefront of drone-based water testing, deploying the technology at dangerous mine sites. The pit lakes that form after mine closures are often in remote areas and can pose extreme health and safety risks to crews.
"Given the value of water in these regions, post-closure pit lake water quality is highly scrutinized by companies, regulators, and the public," geochemists wrote in the journal Mine Water and the Environment. "Routine water sample collection at multiple depths in the pit lake water column informs site water management."
The authors describe a closed mineral mine pit lake in Idaho, where frequent landslides damaged testing equipment and threatened water sampling crews in boats. In a case study, they detail how a patented lightweight groundwater sampling device affixed to a commercially-available drone enabled the mining company to resume collecting water data at depths up to 300 feet without risking crew members' safety.
Overcoming Tricky Conditions
Colorado's largest water utility, Denver Water, serves 1.5 million people. In late 2018, the public water utility put drone-based water sampling to the test at Dillon Reservoir in Summit County, located at just over 9,000 feet elevation. The massive reservoir has about 27 miles of shoreline and is 280 feet deep.
The utility collaborated with the University of Colorado and a global environmental consulting, engineering, and design firm on the drone flights, focusing on feasibility.
"Denver Water routinely goes out in a boat and takes water samples for testing, but the drone could offer another way to do that—and one that may be better suited for collecting samples from places, such as high alpine lakes, that are difficult to get a boat to," said the utility's recreation manager.
Drones also played a role in monitoring water quality in Madeira, a Portuguese archipelago in the North Atlantic Ocean known for its picturesque beaches. The regional government, concerned about preventing harmful red tides and pollution, launched a year-long project deploying drones to sample surface seawater from Madeira's main beaches.
A multinational testing company participating in the project used drones equipped with syringes as well as oxygen, pH, and conductivity sensors to retrieve the samples. Then the company analyzed the water for multiple microorganisms at a lab in Lisbon. This environmental sampling helped the regional government proactively monitor for microalgae and human-caused pollution.
Assessing freshwater for harmful algal blooms (HABs) from a boat or the shore can be hard and time-consuming. "These collections are often restricted to certain months of the year, and generally are only performed at a limited number of collection sites," researchers wrote in Frontiers in Remote Sensing. Led by a Virginia Tech molecular biologist, the group used a unique drone system with a 3D-printed water sampling device to test several lakes in Ohio and Virginia for nutrients, cyanotoxins, and phycocyanin.
"Traditional water sampling methods collected by hand are labor intensive, arduous, and require the use of various pump technologies in conjunction with water sampling devices," they wrote. "Drones offer a rapid, targeted collection of water samples from virtually anywhere on a lake with an active HAB without the need for a boat, which can disturb the surrounding water."
Future Drone Technology Adoption
Although drone technology for conducting water testing exists and offers several clear advantages, hurdles to widespread adoption remain:
Cost: While boat-based testing is fairly expensive, using drones for water sampling is often more cost-prohibitive. An organization would need to pay for the drone usage, the water sampling equipment, a highly qualified drone pilot, and a spotter. To date, water utilities have been more likely to deploy drones and other advanced technologies for equipment inspections than water testing since preventive maintenance has potentially significant savings.
Limited sampling technology: Some companies and academic groups have developed water sampling devices for drones, but this equipment isn't as widely available as imaging and sensing attachments. Additionally, the devices don't all work the same way or collect the same volume of water, so an organization would need to decide which technology works best for their needs.
Regulation: Given the proliferation of personal drones, unauthorized drone usage tends to be prohibited around critical facilities. Even authorized drone water sampling plans may need to undergo additional scrutiny to ensure they follow local safety and security rules.
Weather: Water sampling requires precision, and conditions such as precipitation, fog, and wind could delay or prevent drone-based flight operations.
Despite these challenges, unmanned aircraft systems could be precisely what's needed in certain circumstances. When conditions pose risks to employees, the locale is remote or fragile, or the current sampling methods require significant time and effort, emerging drone systems might be the way ahead.