Drones for Water Quality Testing Offer a Valuable New Tool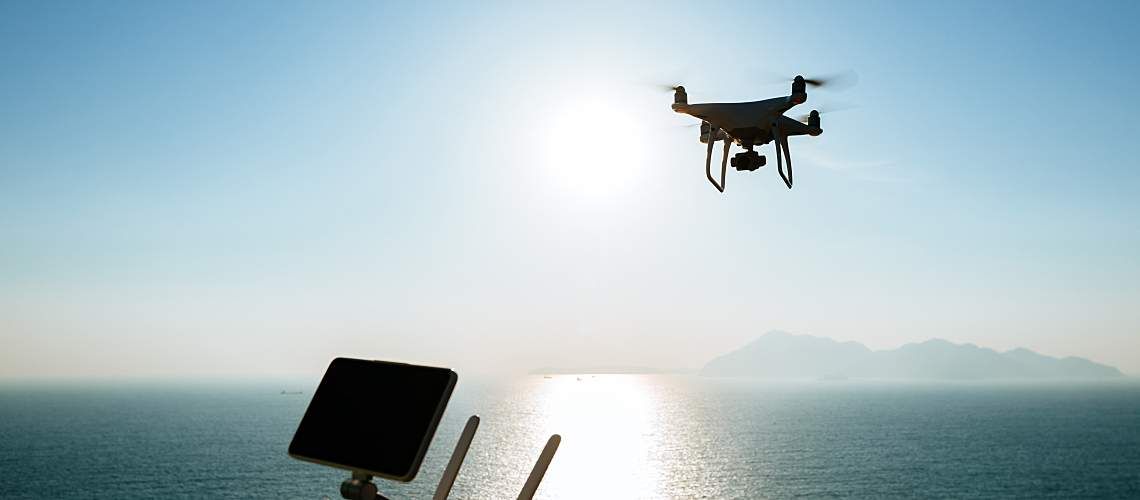 In the last decade, several manufacturers have introduced drones for water quality testing, making it easier to monitor and provide samples from remote and hard-to-reach areas. These unmanned aerial vehicles (UAVs) offer the potential to improve efficiency, frequency, accuracy, and safety while cutting equipment costs and reducing the need for field personnel or marine vessels.
Clean water and sanitation for all is one of the United Nations' 17 Sustainable Development Goals, targeted for completion by 2030. Yet many countries, including the U.S., experience life-threatening water-quality failures like those in Flint, Michigan, and Jackson, Mississippi. A recent Environmental Protection Agency (EPA) initiative aims to improve compliance. But the need for sampling and monitoring will only increase with stricter water regulations, growing populations, industrial and residential development, and national security concerns.
Regular quantitative sampling of surface waters lets local communities and environmental managers track how water bodies are changing in response to pollutants, climate change, and development so they can try to improve the water quality if necessary. But given the time- and labor-intensive nature of regular monitoring, the shortage of technology capable of supporting management actions is a challenge. This makes new tools like drones crucial to protect the health of local communities and meet the promise of clean water for everyone.
Difficulties Meeting EPA Guidelines
In the U.S., the EPA regulates about 148,000 public water systems that provide piped water for human consumption. Of those, roughly 50,000 are community water systems, which serve water to the same people year-round. In 2018 alone, 40% of community water systems violated at least one drinking water standard. In addition, more than 30% violated monitoring and reporting regulations, and 7% violated health-based standards.
The goal of the EPA National Enforcement and Compliance Initiative, begun in fiscal year 2020, is to improve Safe Drinking Water Act compliance and foster greater collaboration among the EPA and states, tribes, and territories. By 2022, the number of community water systems identified as serious violators decreased to less than 60% of the violators identified in 2020.
But achieving the goals requires frequent sampling and testing to meet clean water requirements. Gathering and analyzing samples—not only for residential and commercial purposes but also for industrial and agricultural purposes—is fraught with logistical issues.
Drones address those issues and fulfill the need for an efficient, high-frequency water sampling technology to monitor and improve water supplies.
Sampling Source Water With Drones
To sample water with a drone, an operator begins by hovering a multi-rotor UAV with a water sampling attachment over a shore-based technician. The technician attaches a lockable EPA-approved sample bottle securely to the drone while it hovers. The sampling mechanism protrudes vertically beneath the UAV.
The operator then flies the drone out over a body of water to a sampling location. They lower the drone and submerge the sample bottle 2 feet below the surface. This position eliminates the risk of contamination from sediment in shallow water. The operator then flies the drone back to shore, where the technician removes the full bottle and swaps it for an empty one. The entire operation can take as little as three minutes.
Drones for water quality testing can be equipped with a GPS system that enables operators to log telemetry data, such as time and location, to provide chain of custody information for each sample. With historical GPS logs, organizations can repeatedly sample the same location to record water quality changes with time.
Environmental Water Testing With Drones
Drones are also effective for monitoring small tributaries and neighborhood-scale water bodies. Applications include tracking seagrass health, harmful algal blooms, and oil spill events. For example, aerial drone imagery lets scientists capture algal bloom structures and patterns that they can't otherwise study easily.
Mining companies must also conduct monitoring programs to manage the chemistry and ecology of water bodies that their operations might impact. The monitoring teams typically take samples from the shoreline or boats, which makes safety a constant concern due to the potential for drowning, hypothermia, or contact with hazardous substances. Using drones alleviates these issues while reducing time and cost and increasing sampling frequency.
Similarly, after a critical water event such as a hurricane or oil spill, governments can implement drones immediately, even where it might be unsafe for human investigators to go.
Changing Technology Provides Challenges and Opportunities
In most of the world, technicians take water samples and transport them to a water testing lab where they're analyzed. But could drones eventually upend that process?
Drone Watch EU says it's possible. A research project underway is determining if drones and undersea robots could carry out sampling and analysis for Dutch inland waterways without the need to send water samples to a lab. The drone could use hyperspectral cameras to measure chemical and biological parameters of water in real time. Spectroscopy would allow on-site mapping of water quality parameters, like sediment and carbon concentration. An artificial intelligence algorithm could then convert the measurement data into relevant values and visuals, allowing technicians to view the results immediately.
Sensor-based systems could take this process one step further by eliminating the need for physical sample collection. Sensors might test 20-plus different water parameters periodically and load the results on an analytics dashboard.
No matter how the sampling and monitoring are accomplished, it's clear more work must be done to achieve the U.N. Sustainability Goal for water, as well as the EPA's initiative. Without better management and additional technology, millions of people will continue to be impacted by water-related diseases and life below water will continue to suffer losses in population and biodiversity.